Superior Landscaping Ltd.
Topsoil is the most important component of your garden. Whether you are landscaping your yard or you are rebuilding your flower beds, it is important to use the right soil.
If you use the wrong type of top soil, all your hard work may be of no use. Using the wrong soil may result in washing away of soil during the first heavy rain. If your top soil lacks nutrients, your flowers might fail to bloom.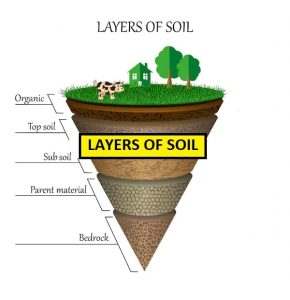 Today, we are going to tell you about the importance of top soil. We will also discuss the difference between top soil and garden soil. By the end of this article, you will know everything about topsoil and its uses in your garden.
Let's begin!!!
Topsoil Is the top layer of soil visible on the surface of the earth. Organic matter (decaying organisms, living and dead) present in it gives it a darker shade than the soil underneath it.
The top soil layer is usually 4 to 12 inches deep. Variation in depth depends on location.
Unfortunately, that never happens unless your home is at the seashore where you have plenty of sun, wind and especially salt air to weather the fence. In town, unstained fences only turn a mottled gray and brown, and the pressure-treated posts change colour at a different rate.
Stain is recommended over paint because paint can flake off over time. Cabot has a good line of "semi-solid" stain colours. Semi-solid stain is ideal for most fence and deck stain projects because it absorbs into the wood grain more than semi-transparent, meaning that you don't have to re-stain as often. At the same time, it is less likely to flake off than solid body stain, which behaves a lot like paint. Normally you need two coats, and you need to apply it only when you're confident to have four or five days of dry weather after the stain is applied. The good news is that you can now get latex stain, rather than oil-based, which makes it easier to apply and wash up afterwards.
For gardening-related tasks, don't use clay, sandy, clay and slit topsoils. This is because these types of soil retain moisture after it rains. As a result, air cannot reach the plant roots. Therefore to ensure proper air circulation in plant roots, avoid using such types of soil.
Topsoils that have a loamy texture and are composed of 26 to 51 percent silt, 6 to 27 percent clay, and under 53 percent sand are considered as best. These topsoils have a low water retention capacity. But they are very easy to till.
In comparison to garden soil, topsoil is sold in larger quantities as per the needs. Top soil can be seen as a general-purpose soil mix. Depending on what your garden needs, you can add compost, fertilizer or other organic matter to it.
Whenever you visit a nursery or departmental store, You might have seen packages "garden soil". Garden soil is often sold as a separate type of soil. But that is not true.
The soil present in your garden has its own unique texture. It has its own combination of silt, sand, clay and many different minerals. Packaged garden soils are made to target a specific type of plant or garden.
For different types of vegetables, gardens, and flowers you can find different types of garden soil in the market. If you are planning to buy garden soil in bulk, know the sources the soil company uses for making garden soil. By doing this, you can be sure the garden soil will blend well with the existing soil present in your garden.
---
Topsoil helps to improve the quality of garden soil. If your garden soil is well-draining, easy to till, rich in nutrients, then there is no need to add top soil. However, in regions with heavy, sandy and dry soil, clay soil, topsoil helps gardeners to grow a wide variety of plants.